The ecosystems that surround us are brimming with food, teas and natural medicines. These are of a quality and richness that cannot be found on the farm or in the market place. To find and gather from nature's own bounty in a sustainable way brings me back to a direct relationship with nature.

---

Mushrooms!

People go bonkers for the umami and rich flavors, the meaty textures and the health benefits. There are so many mushrooms that only grow in nature.

Morel, pheasant back, chanterelle, chicken-of-the-woods, maitake, lions mane, blewit, oyster, porcini, wine cap

Ramps!

The first foraged item of the season in the mid-west is one of the most delicious and versatile treats of the woods. Ramps are a favorite of chefs everywhere. Pickled bulbs and pesto from the greens are just a few preparations.

Flowers and berries!

There are many edible flowers and add color, fragrance, sweetness and sometimes radish spice to dishes. Flowers become berries and nothing is better than service berries raw or dolgo crabapples for jelly.

​


Greens and herbs!

Virginia waterleaf and the mizuna-like toothwart. From an array of spring salad greens and spruce tips to wild mints and spicebush.
From Fields and Forests
---
---
Powered by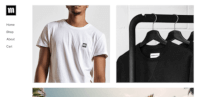 Create your own unique website with customizable templates.